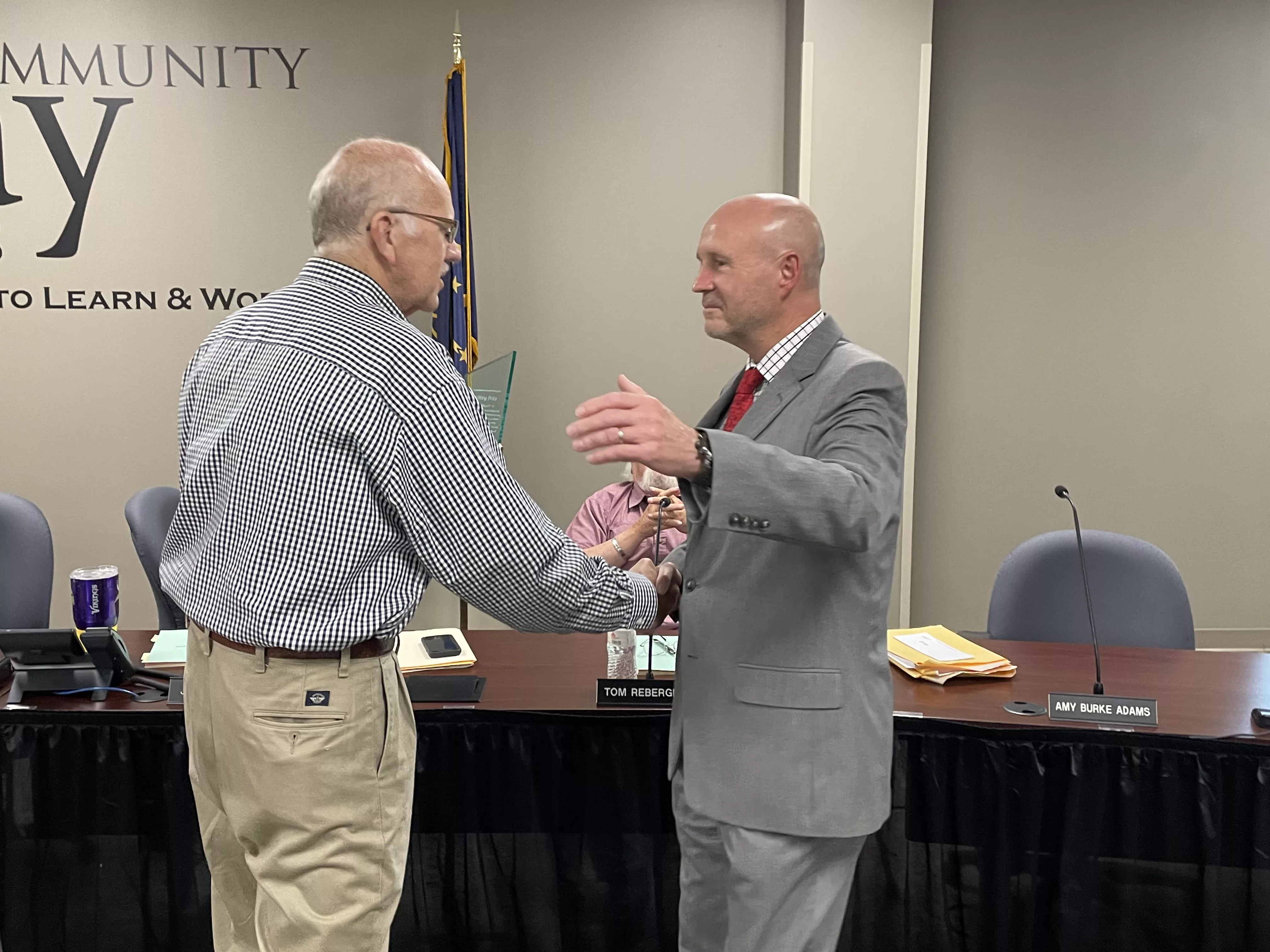 By FRANK PHILLIPS
DLC Media News
BRAZIL – Thursday's school board meeting was one of transition for four people. 
It was the last school board meeting Jeff Fritz would attend as superintendent of Clay Community Schools. It was also the last school board meeting for Tim Rayle, as assistant superintendent , who will become superintendent on July 1. It was also the last school board meeting Gail Williams will attend before retiring. And, Karen Phillips was named the new assistant principal for Cumberland Academy. 
Fritz and Williams received plaques from the school corporation at the end of the meeting. 
Williams is retiring after 35 years working in various capacities for Clay Community Schools. 
"I've loved working for Clay Community Schools," she said after receiving her plaque from board member Lynn Romas.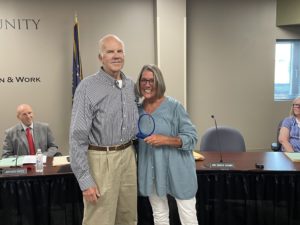 Jeff Fritz has been an integral part of Clay Community Schools for 40 years. 
"It has been my honor and privilege to serve," Fritz said in his closing remarks. 
He thanked all the school board members he has known over the years and said, "I have many memories I will cherish for a lifetime. This has been a great career. I really appreciate that."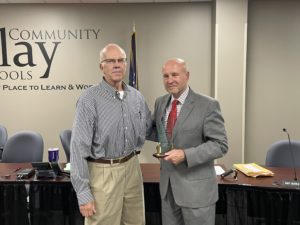 Fritz has been interviewed for "Focus on the Community" that will air soon on WAMB and other DLC Media stations on weekend mornings. 
Frank Phillips spoke with Dr. Tim Rayle, the incoming superintendent, about his thoughts before the last meeting as outgoing assistant superintendent. 
In other business to come before the board: 
The Alongside app was approved for use by all Clay Community Schools students whose parents choose to opt into the program at no cost to the parent. . 
The app gives the student an opportunity to chat online with artificial intelligence and share what is on their minds. If a child indicates he may harm himself or another person, school officials will be notified. 
A sample of students and their parents tried the app and gave feedback in May. Many, if not all, said the app would be a welcome addition to their lives. 
Cheryl Schopmeyer voted against the program, citing several reasons, including the responses will not have to be kept confidential. 
When a child tells the app that he intends to harm himself or someone else, School Police Chief Josh Clarke will be notified immediately, 24-7,  so intervention can be made. 
"We will provide resources for the family," Clarke told the school board. 
"We are aware there is no substitute for a counselor" but children are talking to their friends and not to parents and professionals, Rayle said. 
"Kids prefer online experience to reality," Michael Shaw, a member of the school board said. "But that's where we're at. I support it." 
A new chiller for air conditioning at North Clay Middle School has been ordered. The State Board of Accounts approved the purchase without the school corporation going through the normal bidding process due to the emergency need. 
The board was informed the chiller was bought at a much lower price than anticipated. 
"There was lots of due diligence done here," said Board President Tom Reberger. 
The School Care Program, an update of the program currently being used by nurses in the school corporation, was approved. 
Clay City Elementary School will receive a donation of playground equipment worth $7,000, from the parents organization.
During a recitation of many projects being accomplished by the school corporation, Fritz praised the school police department and its chief, Josh Clarke. 
"I am proud of this program," Fritz said. "It's needed. I wish it wasn't." 
The board approved a program work with Vincennes University to place student teachers in to work with Clay Community Schools teachers. It is a program similar to an agreement worked out with other universities.