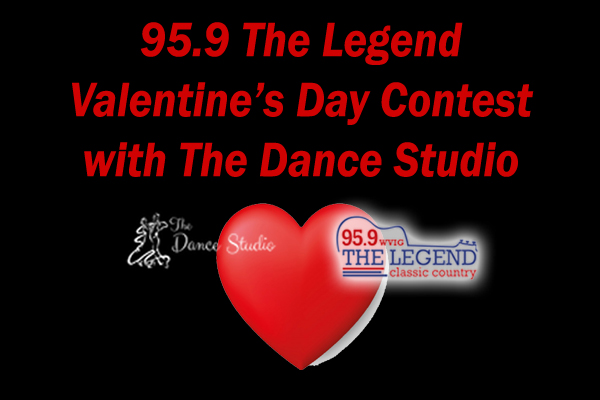 CONGRATULATIONS to Elizabeth Chesterfield of Fairbanks! She was the winner of our Valentine's Day Contest. She is the winner of a $300 package provided by The Dance Studio for lessons!
Congrats again to Elizabeth and Happy Valentine's Day to all!
The winner of this contest will receive 6 lessons at The Dance Studio. This can be for either a couple or an individual – no partner necessary.
All lessons are one on one with an instructor and last 50 minutes. This prize package is valued at $300.
You can enter now until 5 p.m. on Thursday, February 11th. You are allowed to enter once per day. The winner will be randomly selected from entries and then announced Friday morning (February 12th) on 95.9 The Legend Morning Show with Barry Kent and will be contacted directly by the station.  (Please see full contest details below)
The winner must schedule their classes with The Dance Studio before the end of 2021. To ensure the health and safety of instructors and participants, all safety guidelines and cleaning guidelines are being followed at The Dance Studio.
By entering this contest you are agreeing to provide contact information that can be used by 95.9 WVIG The Legend and The Dance Studio for marketing purposes.
This contest is expired.